Author : Stephen Seifert, YourDoctors.Online [https://yourdoctors.online/2016/04/19/online-second-opinion-power-at-the-click-of-a-mouse/]
---
Over the course of your lifetime, you may be confronted with making a serious medical decision concerning you, or a loved one. The diagnosis of a serious ailment can be disheartening to say the least, and the prospect of a healthy future may appear to be in question.
What do most Americans do when faced with a serious medical condition? They reach for the mouse and click on facts concerning their diagnosis and possible treatment plans. Online research may also be your course of action as well. Turning to the Internet for better medical guidance regarding your medical condition.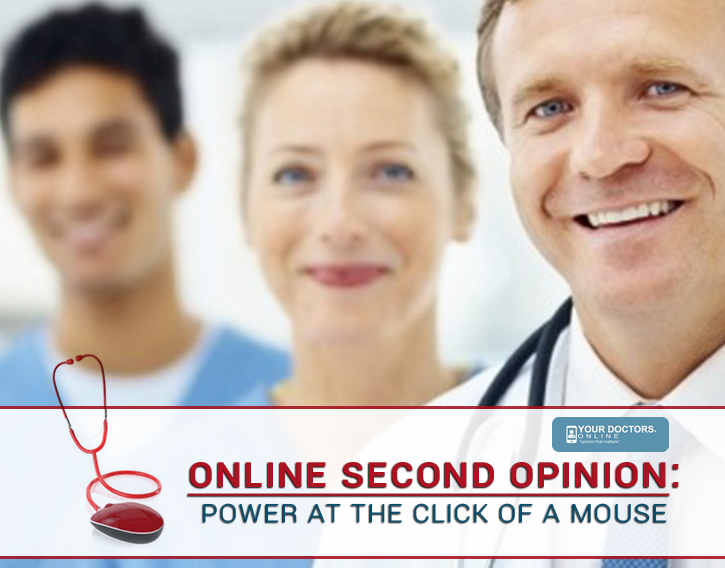 Did you know that a second opinion on your diagnosis reports can be easily obtained online? In fact, the opportunity to get a glimpse into the minds of the most innovative minds in the world of medical sciences awaits you online as well. This is simply the amazing reality we live in today. Obtaining your second opinion online offers a better experience, as well as control over your medical treatment. It gives you the much-required peace of mind you deserve in such a stressful moment in life. Your doubts may be overwhelming, but obtaining a second opinion online is easy. You can even get one from the comfort of your home, without ever stepping foot in a doctor's office.
In almost 30 percent of cases, obtaining a second opinion can dramatically change the course of a treatment plan, and even that of the diagnosis. You may be surprised to know that the latest findings on medical second opinions changed treatment plans. Recent research published in Cancer, a medical journal publication, found that propositions for surgery changed in more than 50 percent of breast cancer patients who sought a second opinion. Investing your time to be certain about your treatment plan and diagnosis may save, or dramatically improve your life.
To know more log onto YourDoctors.Online and get medical advice from medical experts around the globe.
At YourDoctors.Online we have online doctors who answer your questions for all issues such as Pancreatitis, Leukemia, Lymphoma, Prostate Cancer, Blood Clot In The Lungs, Acne Scars, Burn Treatment, Sciatic Nerve, Meniscus Tear, Ruptured Disc, Spinal Fracture, Pregnancy Issues, Ovarian Cyst, Ovarian Cancer, Cervical Cancer, Fallopian Tubes, Hypertension. Click below to register
For more health articles please visit YourDoctors.Online